One Young World is delighted to announce the winners of the inaugural One Young World Entrepreneur of the Year Award.
Created to identify and promote the world's most revolutionary entrepreneurs, the Award honours five young leaders –aged 35 and under – who have been judged on the positive social impact of their business ventures and how they are transforming the way we work, learn, live and eat. These five young leaders were selected by a panel of respected international business figures from a shortlist of 20 young entrepreneurs from around the world.
Marisa Drew, Judge and CEO of the Impact Advisory and Finance (IAF) Department of Credit Suisse commenting on the Award, "It has been such an inspiration to witness the incredible creativity, entrepreneurial spirit and real impact that this group have demonstrated with the businesses that they have created. These entrepreneurs have found new, underserved or poorly-served markets and have come up with innovative ways to deploy their talents toward creating businesses with the ability to scale and become the disruptors in their field."
The winners will be presented with the Award at the One Young World 2019 Summit taking place in London, 22 -25 October.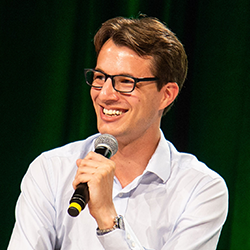 Severin Hacker, Switzerland
Severin is the Co-founder and Chief Technology Officer of Duolingo; a language learning platform on a mission to make language education free, fun and accessible for everyone in the world. Duolingo has 300 million users and offers 84 total language courses for more than 30 languages.

Kathryn is the CEO and Founder of The Muse, a career platform used by over 75 million people to research companies and careers. Organisations use The Muse to attract and hire talent by providing an authentic look at company culture, workplace, and values through the stories of their employees.
Srikanth is the Founder and CEO of Bollant Industries, a manufacturing company that produces eco-friendly disposable products and packaging solutions for manufacturers out of natural leaf and recycled paper. He created it with a vision to enhance employment opportunities for differently-abled people, mostly uneducated and unskilled.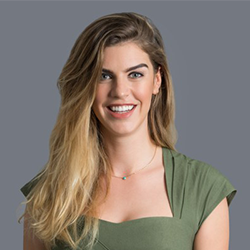 Elissa Freiha, United Arab Emirates
Elissa is Director and Co-founder of womena®; pivoting from an investment network into a media platform, womena® is a multi-dimensional brand with its own flagship Accelerator program as well as a Bossladies network. womena® continues to invest in women and is dedicated to women's empowerment by producing content focused on independence and promoting female founders, creatives and change-makers around the world. womena® is based in the United Arab Emirates.
Messages from Judging Panel
"We need the energy, pride and imagination of young entrepreneurs bringing novelty to society and driving economic development. The One Young World Entrepreneur of the Year Award is our 'thank you' to them." - Professor Orietta Marsili, Professor of Innovation and Entrepreneurship, Director of Studies MSc in Entrepreneurship and Management at the University of Bath.
"Only creativity and innovation can drive real progress. The power of youth is to create in a pure form, with no biases nor prejudices. You are the entrepreneurs we're proud to recognise with this OYW award!" - Elio Leoni Sceti, Co-founder and Chief Crafter of The Craftory.
"In the field of social impact, entrepreneurship is key because it provides innovative solutions to the same longstanding challenges that we have been tackling for years. This award recognises those who are solving the world's major challenges with their entrepreneurial and revolutionary spirit." - Luis Javier Castro, Founding Partner at Mesoamerica Investments.
8/10/2019 - This article has been updated to reflect a change in the award winners